What do 14 year olds do at home with friends?
Simple and easy things for tweens, teens, and adults to do when they're bored. Options for girls and boys, mostly at home but some traveling away from home. Good ideas when you're
Simple and easy things for tweens, teens, and adults to do when they're bored. Options for girls and boys, mostly at home but some traveling away from home. Good ideas when you're alone, with friends, or with a boyfriend or girlfriend. Perfect for a summer night by yourself or a winter afternoon as a couple or anytime of the year! Some can be done on a rainy day and some with no money. Way more than 100 creative, fun, and cool ideas.
PIN IT FOR LATER!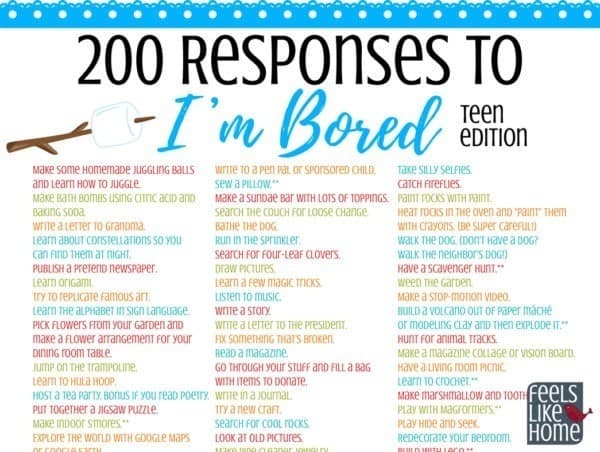 A couple of weeks ago, I wrote a post on fun things for kids to do when they're bored. It included a mammoth printable with over 200 ideas and suggestions for younger kids - maybe ages 4-10? - to do when they are bored. On it were lots of things including play hopscotch and experiment with seeds and make crayons in the sun.
A few readers emailed me after that post to ask for a similar one for older kids - 10 and up - because, as a group, they are not usually interested in playing with Barbies or doing simple science experiments. I could see where they were coming from and promised to write such a list.
It has been much more difficult that I imagined when I made the promise. Our tweens and teens tend to be so blasé about everything. They want to play video games and Snapchat and whatever else they do in front of screens, but having fun without screens is a much bigger challenge.
Our tweens and teens spend a lot of time in front of their screens, and mine is no exception. I allow far too much screen time for my own level of comfort, but I need quiet for working, and I cannot have squabbling children in the next room when I'm on a conference call. Quiet is non-negotiable.
Given that, when I am not working, I enforce a strictno screensrule. They get to be bored and play all they want, hence the need for this list.
Bookmark this list of fun things to do and return to it every time your tweens or teens say those dreaded words. Give them a choice. Most of the items are linked to a full description or tutorial, but some that are self-explanatory are not.
You can survive the summer and the year ahead, and please don't forget that you don't have to entertain them all the time. They can be bored, and they will survive.
CLICK TO GET
THE LIST
If you'd prefer a printable card-based version that you can give to your kids to work out on their own, click over here to access that.
The Ultimate List of Fun Things for Tweens & Teens to Do When They're Bored - 200+ Ideas
Read a book. (101 best chapter books- many of these are for younger kids, but there are books on the list that will also appeal to tweens and teens)
Read a picture book to younger siblings. (Here are 101 Picture Books that every kid should hear.)
Listen to an audiobook.
Do an experiment with paper shapes.
Play with perspective.
Do paper chromatography.
Do t-shirt chromatography.
Build paper towers.
Do an experiment with soda.
Do an egg drop experiment.
Microwave soap.
Go to the beach.
Go to the pool.
Play a board game.(Thethe best games for tweens, teens, and adults - all family-friendly and nothing vulgar)
Makehomemade root beer sherbet.
Makehomemade ice cream.
Make a terrarium.
Make egg geodes.
Interview each other.
Make a geoboard.CLICK TO GET
THE LIST
Do a random act of kindness.
Go to the zoo.
Go to the aquarium.
Have a glow stick treasure hunt.- They could easily set this up for each other with minimal parent involvement.
Make a tape resist painting.- Challenge them to make their names with tape and paint over that.
Play glow in the dark ring toss.
Make a fairy garden.
Make a mosaic using dyed rice.
Make astronaut pudding.
Make marzipan piggies.
Melt beads for suncatchers.
Play or explore in a creek.
Go to an amusement park.
Go to a water park.
Grow a garden.
Grow a Venus Flytrap.
Write in a journal.
Test out paper airplanes.
Make slime.
Make string art.CLICK TO GET
THE LIST
Make washi tape butterflies.
Make a homemade pizza in the oven.
Make a homemade pizza on the grill.
Cook something.
Play water balloon dodgeball.
Have a sponge relay race.
Play catch.
Plant a tree.
Bake cookies.
Blow bubbles.
Sing patriotic songslikeMy Country Tis of Thee, God Bless America, the Star Spangled Banner,andAmerica the Beautiful.
Play frisbee.
Play bocce ball.
Play lawn darts. (They're not like they used to be.)
Play croquet.
Play horseshoes. (You don't need pits for this set from Amazon, and you can even play in the house.)
Go for a hike.
Start an exercise routine and commit to exercise every single day.
Challenge a friend to a Chopped-style cooking competition.
Find something at the thrift store that you can sell on eBay for profit.
CLICK TO GET
THE LIST
Do some extra chores to earn a few dollars.
Turn a piece of old clothing into something new.
Volunteer at an animal shelter.
Volunteer at the library.
Call a friend.
Babysit.
Make a kite and fly it.
Host a sleepover like in the old days.
Start a nature journal / sketchbook and work on it every day.
Color your hair. (We tried hair wax and thought it was nasty. Go for a semi permanent color that will wash out over time.)
Learn a new instrument.
Go to the movies.
Go out to lunch with mom or dad.
Take an online class. We have taken dozens of classes on all kinds of topics through Outschool and love the format.
Learn to play tennis.
Learn to play golf.
Make a bucket list.
Have a silly string battle.
Write a group story - one person write 2 sentences then passes the paper to the next person, who also writes 2 sentences and passes it on.
Create a funny skit and video it.
Do something for the neighbor - offer to clean her windows, vacuum for her, mow her lawn, etc.
Plan a meal, shop for the ingredients, and give your mom the night off.
Make a mural with sidewalk chalk.
Plan a craft for the neighborhood kids.
Make a music video.
CLICK TO GET
THE LIST
Give a friend a makeover.
Go to an outdoor concert.
Go to an outdoor movie.
Make a taco bar for lunch or dinner.
Make walking tacos for dinner - start with a small bag of doritos for each person, then dump in a few ounces of taco meat, lettuce, tomatoes, cheese, sour cream, and salsa. Eat with a fork. Walking optional. (My kids LOVE these!)
Play frisbee golf.
Go to an arcade.
Play skeeball.
Go go-cart racing.
Make something you found on Pinterest.
Learn a new dance from YouTube.
Do a photo scavenger hunt.
Make a time capsule.
Go for a train ride.
Go indoor rock climbing.
Go to the library.
Make something from paper mâché - masks are fun, but so are piñatas, houses, and just about every other thing I've ever made. Use your imagination.
Homemade bowling - spray paint 2-liter bottles, fill them halfway with rice or dried beans, and set them up in the yard. Use a kickball or soccer ball to knock them down.
Learn how to tie dye.
Go on a picnic.
Go bird watching.
Explore a small area in your yard with a magnifying glass.
Go geocaching.
Create a new geocache and hide it.
Go on a hike in the woods.
CLICK TO GET
THE LIST
Play balloon volleyball.
Camp out in the backyard.
Maketoy parachutes.
Make somehomemade juggling ballsand learn how to juggle.
Make bath bombs using citric acid and baking soda.
Write a letter to Grandma.
Learn about constellations so you can find them at night.
Publish a pretend newspaper.
Learn origami.
Try to replicate famous art.
Learn the alphabet in sign language.
Pick flowers from your garden and make a flower arrangement for your dining room table.
Jump on the trampoline.
Learn to hula hoop.
Host a tea party. Bonus if you read poetry and serve brownies.
Put together a jigsaw puzzle.
Make indoor s'mores - stack a graham cracker, square of chocolate, and marshmallow. Top with another graham cracker and microwave for 10 seconds.
Explore the world with Google Maps or Google Earth.
Make friendship bracelets.
Do some Mad Libs.
Learn a new card game.
Learn how to do Sudoku.
Jump rope.
Write a haiku.
Make a card and mail it to someone special.
Play charades.
Learn a poem and recite it to your mom.
Make a photo album.
Organize your bedroom.
Climb a tree.
CLICK TO GET
THE LIST
Visit a farmer's market and try something you've never eaten before.
Go roller skating.
Play Twister. (Take this outside if you're like us and lack living room floor space.)
Take silly selfies.
Write to a pen pal or sponsored child.
Sew a pillow.
Make a sundae bar with lots of toppings.
Search the couch for loose change.
Bathe the dog.
Run in the sprinkler.
Search for four-leaf clovers.
Draw pictures.
Learn a few magic tricks.
Listen to music.
Write a story.
Write a letter to the president.
Fix something that's broken.
Read a magazine.
Go through your stuff and fill a bag with items to donate.
Write in a journal.
Try a new craft.
Search for cool rocks.
Look at old pictures.
Make pipe cleaner jewelry.
Take a bubble bath.
CLICK TO GET
THE LIST
Water the plants.
Have a dance party.
Ride your bike.
Wash the car.
Create a comic book.
Write a song.
Do handprint art.
Do footprint art.
Have a staring contest.
Blow cotton swabs through a straw at a bowl. (My kids love this!)
Play badminton.
Make a tie blanket out of fleece.
Make a tie pillow out of fleece.
Make up new rules to an old game.
Build a bird house.
Have a water gun battle.
Catch fireflies.
Paint rocks with paint.
Heat rocks in the oven and "paint" them with crayons. (Be super careful!)
Walk the dog. (Don't have a dog? Walk the neighbor's dog!)
Have a scavenger hunt. (Search on Pinterest for a good template.)
Weed the garden.
Make a stop-motion video.
Build a volcano out of paper mâché or modeling clay and then explode it using baking soda, vinegar, dish soap, and some food coloring.
Hunt for animal tracks.
Make a magazine collage or vision board.
Have a living room picnic.
Learn to crochet. (This is the YouTube video that I used when I first learned.)
Make marshmallow and toothpick towers.
Play with Magformers.
Play hide and seek.
Redecorate your bedroom.
Build with Lego.
Have a Nerf Gun battle.
Take some interesting photos.
Challenge someone to an UNO championship.
Build a campfire.
I hope you'll be able to print out this list, laminate it, and hang it up somewhere in your home so that your tweens and teens can pick and choose fun things to do when they're bored this summer (or anytime of the year!) without hounding you to entertain them. Good luck!
And, when all else fails, remind your kids that being bored is good for their brains. Boredom is the birthplace of creativity and imagination. I tell my kids that all the time. They roll their eyes and walk away and find something fun from this list to do. Score one for me.
CLICK TO GET
THE LIST
While you're here, check out these other resources:
The Ultimate List of Fun Things for Kids to Do When They're Bored - 200+ Printable Ideas
The Ultimate List of 150 Screen-Free Summer Activities for Kids & Teens
30 Best Quotes From Our Favorite Children's Books
27 Awesome, Inspiring Harry Potter Quotes
Video liên quan